The Paul Cuthbertson Foundation
The Paul Cuthbertson Foundation is dedicated to investing in the next generation of young women and men who have a passion for pursuing excellence in sports, education, music and the arts.
Our 501(c)(3) Foundation provides The Live for Those Who Cannot Scholarships to youth who have deep ties to a Colorado mountain community. We prioritize individuals ages 13-25 that can demonstrate a financial need, have a strong work ethic, are dedicated to mentoring other youth and are deeply involved in their community. Previous scholarship recipients are eligible to apply for funding if they can demonstrate that additional support would further strengthen their ability to achieve their individual goals. Scholarships range in size from $500 to $5,000. The 4th annual application period will open February 20, 2023. Applications are due by 5 p.m. on April 30, 2023 and applicants will be notified by May 31, 2023.
Since its inception in 2019, The Paul Cuthbertson Foundation has provided more than $45,250 in cash scholarships to applicants who demonstrate an intellectual curiosity, show fierce determination and who exemplify Paul Cuthbertson's passion for the mountains. Grantees have included youth pursuing medical and nursing school, an aspiring actress, a dancer, a videographer, a competitive mountain biker, a World Cup alpine ski racer, a para athlete, and numerous other athletes pursuing outdoor winter snow sports.
If you are moving from Dreaming to Focusing, we encourage you to apply. To apply, click on the Scholarship Application button at the bottom of this page.
#spreadlovepc #liveforthosewhocannot #live4pc
The Live for Those Who Cannot Scholarship
"Live for those who cannot" is a philosophy that Paul created, lived by, and had tattooed on his forearm. In memory of Paul and this approach to life, the foundation is pleased to award the Live for Those Who Cannot scholarship.
Guidelines and Requirements:
If you are selected, we will ask for your permission to use your name, photo, and a testimonial to encourage other young men and women to apply for a future scholarship.
If you were awarded, you will sign an agreement with the PCF and you will need to send us an invoice from your selected organization. We will pay the invoice directly to your organization by check.
After you have completed your activity, you are required to provide us with follow up information related to your activity and achievements. We ask what you've accomplished and how the scholarship helped you to achieve your goals. Share pictures or videos of you doing your activity.
Our Application includes:
A letter of recommendation from a trusted teacher, community leader, or coach who can speak to your character and dedication to your specific endeavor.
A brief essay that describes what this scholarship means to you and how you will utilize the funds, if awarded a scholarship. You are encouraged to include photos or a video essay.
Please remember:
We want to get to know you and learn about your passions and dedication to your dreams.
Make sure to describe how you mentor other youth and how you help your family, friends, fellow classmates, and the community.
Describe any extraordinary family or financial circumstances you may have. For example, experiences that have affected you or your family, injuries that you have come back from, or anything else that is affecting your ability to achieve your goals.
You may be contacted by Scholarship Selection Committee Member to conduct a telephone or a virtual interview. These interviews will help to answer any questions or get more information about your application. Final scholarship notices will be sent via email.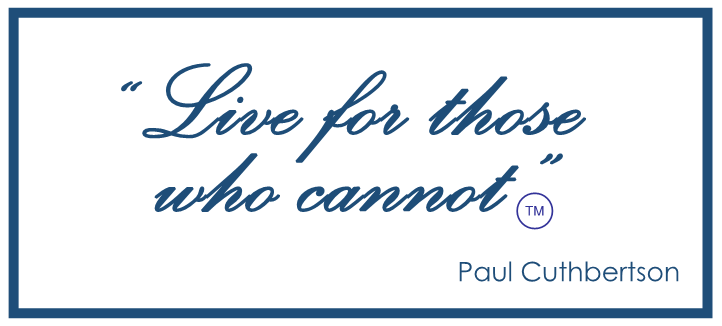 The Paul Cuthbertson Foundation
P.O. Box 1183
Vail, CO 81658